The important Batibouw trade fair in Belgium, where we presented new products that reflect the identity of the RiFRA brand, has just ended.
A first news can be seen in the external presentation, a more compact stand to allow clients to discover the RiFRA style.
The atmosphere is fascinating, each product, complement and decorative object contributes to create the brand's language and style, conveying RiFRA's "Luxury Design" identity.
Let's discover together this year's news.
1 – MATERIALS FOCUS
WOOD
RiFRA presents 9 wood products divided as follows:
6 Oak finishes
Flamed Oak Honey
Decoloured Flamed Oak
Flamed Oak Grey
Natural Antique Oak with knots
Grey Antique Oak with knots
Antique Oak Honey with knots
3 Wood finishes
Eucalyptus
Wengè
Flamed Walnut
Bookcase CLIMBING in Decoloured Flamed Oak
2 – PRODUCTS FOCUS
K.FLY
RiFRA proposes the collection with new important thicknesses concerning the door of 22mm.
Strength and stability that, together with a sophisticated top support and visually light top, emphasize extreme attention to detail.
In this setting, we find the washbasin SUAVE, known as an over-top washbasin but here proposed in the integrated version.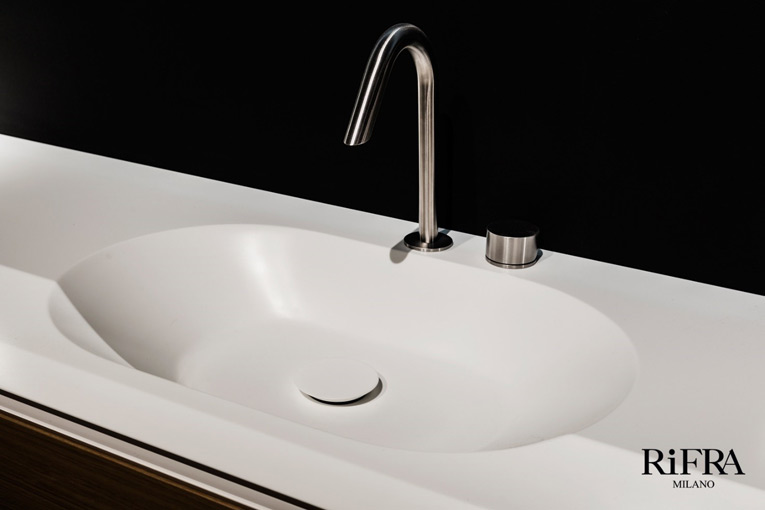 K.ONE and K.KUBE
New settings and finishes for RiFRA best sellers, K.ONE and K.KUBE.
K.ONE, presented in the finish black cement with countertop in Laminam Calce black. A singular visual experience deliberately created to emphasize the concept of monobloc.
K.KUBE, present in two settings, is proposed in the finishes Bronze Metal and pure White Glossy lacquered.
The new RiFRA taps in polished or satin-finish steel are available in all new environments.
In the metal proposal, beauty is enhanced by the choice of adorning also the interiors proposed in wenge wood.
The lacquered ambience expresses the best way the concept of volume and proportion of shapes; once again, the technical parts are deliberately hidden by proposing an integrated washbasin in Corian, model WB30, with internal top.
In all the new settings there are the new RiFRA taps, collections WAVE and FORTY in polished or satin-finished steel.
1 – SANITARY FIXTURES
The restyling also concerns the RiFRA Sanitary fixtures line, which we find with a lighter design, given by a visibly thinned board.
2 – COMPLEMENTS
To enrich this year's presentation, there is the new line of leather-upholstered chairs, suitable for your relaxation corners but also for accommodating your guests in the dining room; the table covered in Laminam Calacatta Oro is an interesting detail.

RiFRA's identity and its ability to manufacture durable products are also confirmed in this 2018 bathroom collection, the result of continuous research and innovation.
Watch the video summary of all new proposals, subtitled in Italian and English:
Thank you for your attention, I hope that you liked the new products and presentation.
Laura Spinelli
Ps: Remember to subscribe to our YouTube channel, www.youtube.com/rifra, to stay updated and preview our videos.