Kitchen wall units are too often undervalued, yet their choice can determine the character of one of the most important environments in our homes. To not undervalue any of this, we've decided to give you some advice to find the ad hoc wall units for your kitchen without going wrong.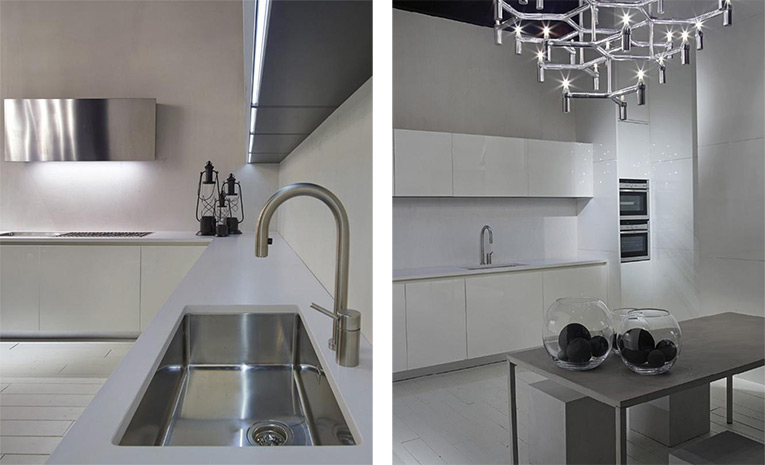 Glossy White Lacquered LINE Kitchen
MODULES
The first choice you have to make is of the modules, which can be developed vertically, mainly in classic kitchens, or, for those who have little space, horizontally, a preferred choice for designer kitchens.

ZERO kitchen – Oak and Briccola Snacks
Naturally, it's possible to choose from among closed modules, ideal for storage spaces, or open models, which give brightness and movement to your kitchen. You can also play with the concepts of full and empty, thus creating an extremely functional kitchen full of character.

Matte White Lacquered LINE Kitchen
If the height permits, you can also use upper wall units, positioned higher, which work well for the storage of lesser used items.
SIZE
Size is also a factor not to be underestimated in the choice of wall units for a kitchen. The average depth is around 35 cm. The important thing is that this doesn't exceed the thickness of the kitchen counter or it'll be impossible to make the most of it. In this case too you can play with wall unit thickness to increase the character of the kitchen and personalize it entirely according to taste.

Clay Oak FLY Kitchen
ERGONOMICS
To not make the wrong choice of kitchen wall units, it's necessary to pay close attention to positioning too, i.e. to the space between the counter and wall units themselves. Normally the distance is 60 cm, but no one will forbid you from changing this on the basis of your needs. Our advice, naturally, is to never go below this standard size.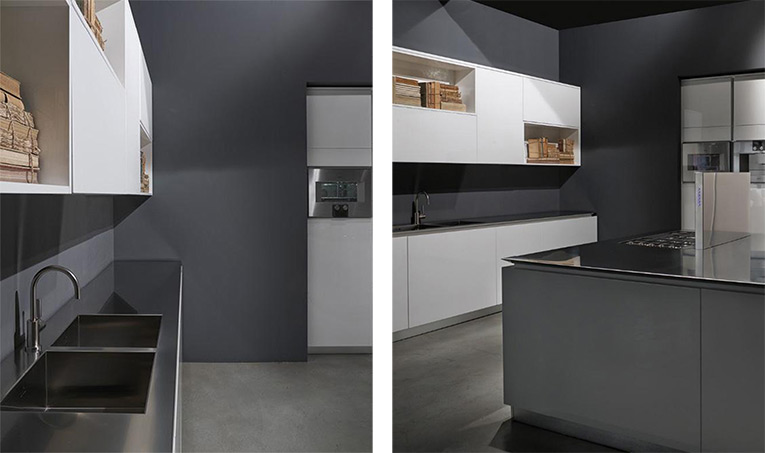 FLY Pure Bright White Lacquered Kitchen
OPENING SYSTEMS
The last factor, but no less important, is the opening of the wall units. Opting for the classic swing door is surely the most immediate and easy solution, but the size of the opening might create some minor drawbacks, especially for those with little space. In this case, it would be better to choose a folding horizontal or vertical door, ideal for those who have decided to furnish their homes with a modern, designer kitchen, and thus with horizontal wall units.
Clay Oak FLY Kitchen
For the choice of folding doors, you could think about adding a remote control and built-in button, which would allow you to automatically open and close the door, cushioning its closure.
If you love the play of light, we also propose that you think about adding both external and internal LED lights that can be turned on remotely or with a sensor that detects the opening and closing of the door.
Clay Oak FLY Kitchen
Laura Spinelli
PS: If you want to receive all the latest news on our kitchens, visit our site www.rifra.com/en/index.aspx or follow our social media pages:
https://www.facebook.com/RifraMilano/
https://www.instagram.com/riframilano/