What finishes does RiFRA offer? Here is the ultimate list!
The countertop finish that is traditionally proposed as an entry-level finish in the kitchen and bath sector is without a doubt the laminate finish, followed by lacquer and then perhaps the woods.
However, RiFRA has gone completely against the grain and eliminated laminate completely. Why? Because it's simply not a high quality product, and doesn't represent what RiFRA does in the market as a high positioned, Italian brand!
RiFRA, with its long-standing tradition of producing high-quality products, has chosen to simply abolish laminate and invest time and money in researching how to better utilize other, better, materials instead.
RiFRA's constant research and attention to the market, its players and the final client's needs and desires has led to a series of exclusive materials and finishes that can only be defined as "exotic finishes." Within this curated selection of materials there is a scale that starts with what RiFRA considers the entry-level material, the lacquered finishes, ending with ceramic stone and stone finishes with woods, cements and metals happily in the middle.
With such a wide selection, we understand that you might be a little overwhelmed! That's why we are going to break it down so it's simple to understand.
Let's take a deeper look at each group individually:
Lacquer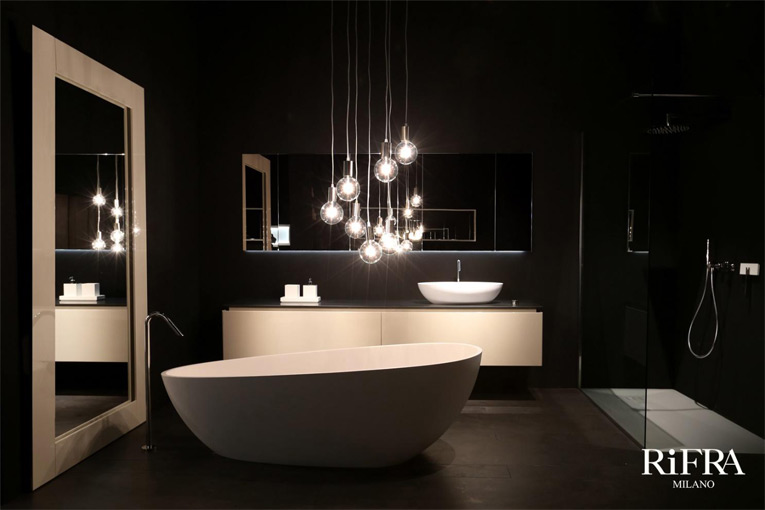 Bathroom model K.FLY, glossy rope lacquered.
Lacquering is a polyester paint or colored polyurethane covering that is widely used on surfaces such as wood or wood fibers. A paint composed of resin, hardeners and catalysts, the composition allows the lacquer to perfectly cover the surface, giving the color some thickness and making the surface impact resistant, homogeneous and flat.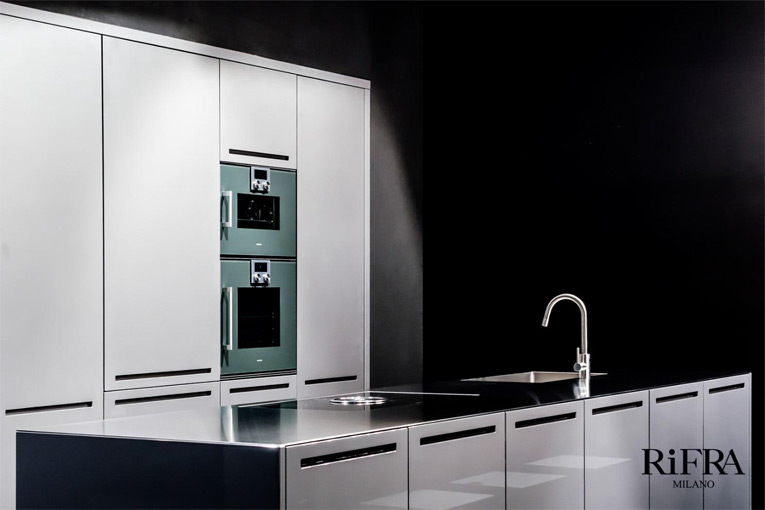 Kitchen model ZERO lacquered matt and glossy lead.
RiFRA has a selection of 100 different glossy lacquers as well as another 100 opaque lacquered finishes to offer. These lacquered finishes are made using very high-performance robots.
Wood
Probably the oldest material of all, wood has been around since the beginning of time and was probably the original worktop for kitchens. RiFRA has more than 20 different wood finishes to offer, with new ones just presented a few months ago at Batibouw 2018 in Brussels to expand and enrich this number.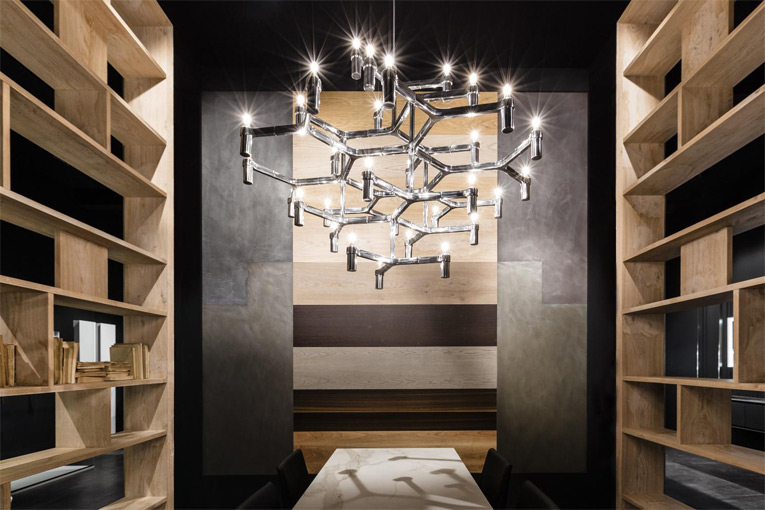 The new wood proposals, presented at Batibouw 2018.
Cement
When talking about cement, we are talking about a product of nature that originates from stone and fire. It is a union of three natural materials, limestone sand and clay, that, when combined with water and other natural-borne materials, reaches a semi-solid state that allows it to be spread by hand on the piece of furniture in question, making each piece unique.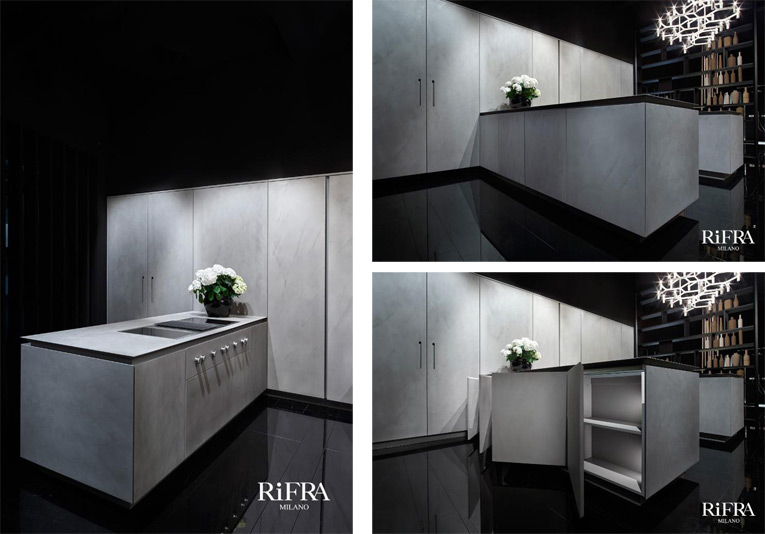 Kitchen FLY in cement.
Cement by RiFRA can have 3 shades: black, anthracite cement and grey.
Metal
With this category, RiFRA's objective was to reinvent the way a material that is practically everywhere -and has allowed humankind to literally evolve- is used in everyday life. This finish is created from a base of metal powder mixed with synthetic aggregates creating a semi-solid, which, again, permits the coating of the furniture to be done by hand.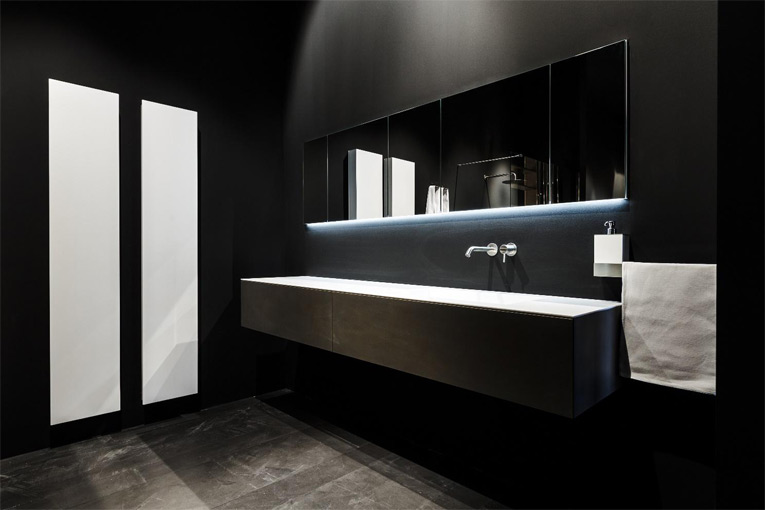 K.KUBE bathroom collection covered in metal.
Here there are, also, different shades to choose from that vary according to the percentage of metal used in each case: iron, copper, brass, bronze and cast iron. Metal finishes can be ordered in a smooth or crackle finish. The crackle finish is the result of a chemical process that cannot be controlled, giving the metals visible cracks to make each piece completely unique
Ceramic Stone and Stone
This includes granite and sought-after marble. They are appreciated for their inimitable aesthetic characteristics, thanks to the unmistakable chromatic diversifications.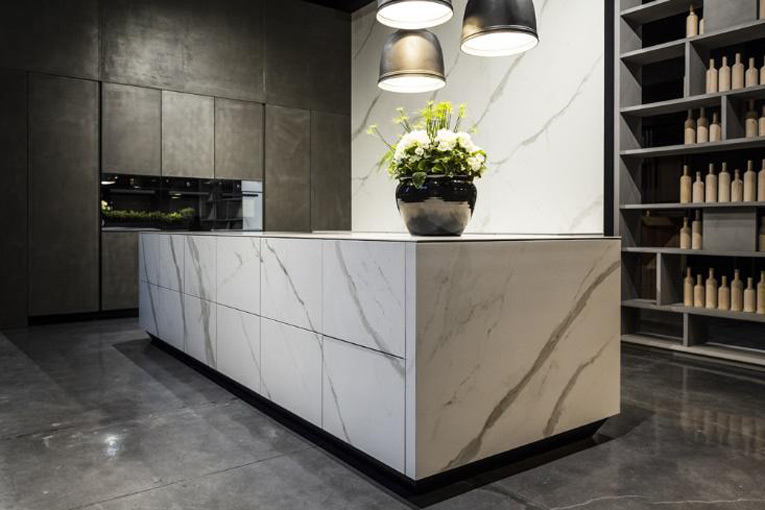 KUBE kitchen covered in Gold Calacatta.
RiFRA has chosen five finishes, five natural marbles and their variations in slabs of extremely thin ceramic that allows to achieve large measurements in length and width. The five natural marbles you'll be able to find are: gold calacatta, noir desir, grey savoy, diamond cream and statue white.
From a lacquered finish all the way to a natural stone, each finish has a story to tell. Whichever you choose, it'll be the right one for you!
RiFRA has gone above and beyond the generic countertop finishes options in the market, exploring the use of materials that have never been used prior in the same way.
View the video of RiFRA Keynote in which we summarize our proposed finishes: https://www.rifra.com/keynote0418/en/
Laura Spinelli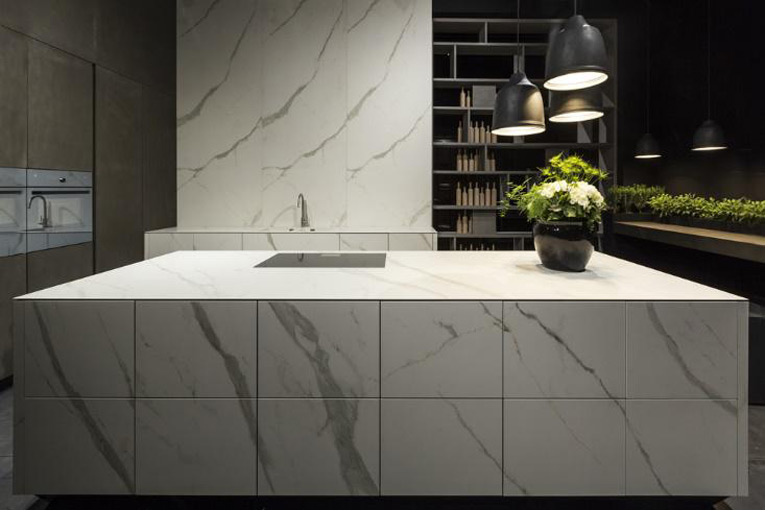 PS: If you want to receive all the news about our products visit our website https://www.rifra.com/en/index.aspx or follow us on our social pages:
https://www.facebook.com/RifraMilano/
https://www.instagram.com/riframilano/