Just outside the ancient walls that jealously enclose splendid masterpieces of art and Renaissance architecture, a young couple revealed to us how the meeting with RiFRA turned out to be a real lightning strike.
The model chosen was the ONE kitchen in black cement finish and matt silver grey lacquered columns.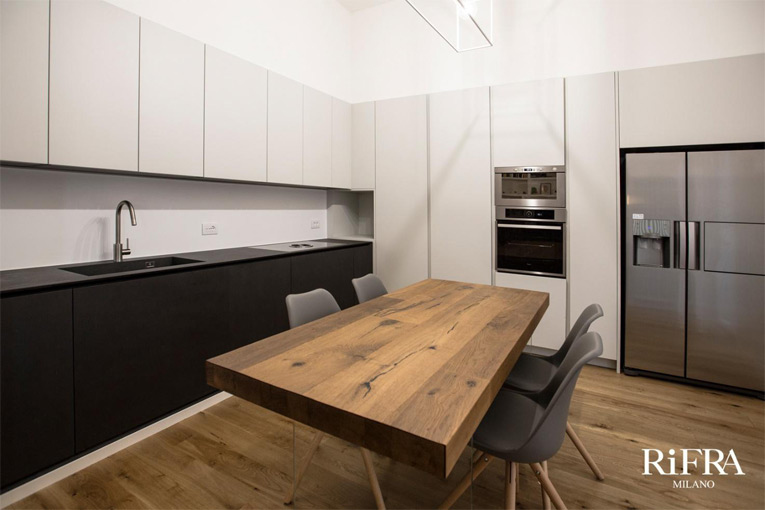 Our client said about us:
"I met RiFRA online and was impressed by the ONE model, a scenic kitchen that struck me straight to my heart, we then visited the RiFRA Store in Milan and a great love was born.
During the design process, many changes were made, aimed at ensuring that the design and structure of the house were better communicated.
Also the combination of two finishes so opposite has contributed to this winning result;
An elegant but at the same time welcoming and functional environment in which RiFRA has been able to enhance the space, which has acquired even more breadth and brightness.
The concrete effect is a very special finish but the kitchen impresses even for all the subtleties that are inside. For me it's a marvel and there's no comparison with other models… and I confess that my husband and I have seen so many models before making the kitchen of our dreams.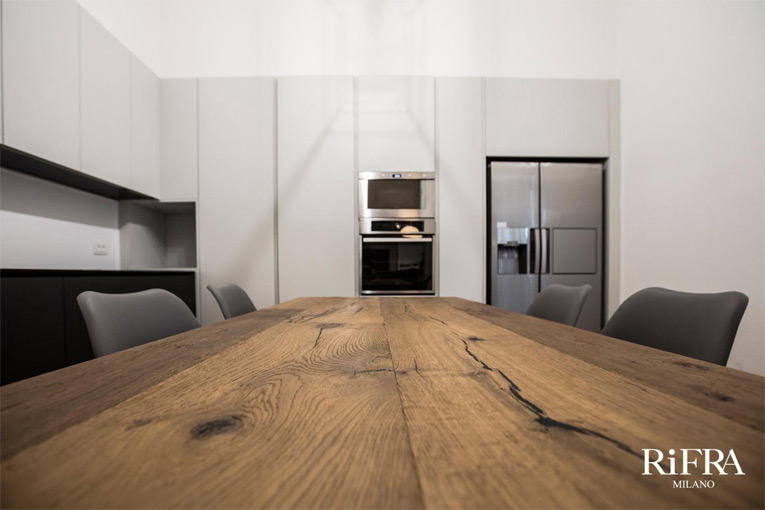 I can therefore say that it was a very positive experience, from design to assembly.
This RiFRA kitchen has allowed us to satisfy all our needs, to have a nice kitchen but also and above all functional, practical to use and clean, because if you like to cook and your table is always crowded, this is what really matters.
If you choose RiFRA is because you have a passion. RiFRA helps you in this passion, gives you the pleasure of cooking".
Francesca Mannini
We thank our client Francesca Mannini for the trust placed in RiFRA.
If you liked the project, here is the video of the testimony: http://bit.ly/2E2w6Ij
If you would like more information about our kitchen and bathroom collections, please reply to this email or leave a comment on the blog and we will contact you.
PS: Remember to sign up for RiFRA's YouTube channel where you will find more than 100 videos dedicated to the world of kitchen and bathroom design youtube.com/rifra.