RiFRA Experience is a RiFRA TV program dedicated to the product, during this fourth episode we wanted to analyze with you what makes our FLY kitchen exclusive.
Let's look at the main features together:
1. THE 30° DESIGN
The FLY kitchen presents itself with high-level details that make it unique and refined.
In particular, the doors are shaped at 45° while the top is shaped at 30°.
A deliberately oversized groove is positioned between the door and the top, which can be lacquered to suit the color of the doors or to the customer's choice.
2. INTERIORS
The FLY kitchen runners are standard in matt black finish, customized RIFRA MILANO.
The runners allow the drawer to slide quietly, with total extraction and soft closing. The matt black finish, combined with the matt black finish of the interior of the cabinets, gives a tone of absolute elegance.
On request it is possible to create the guide rails in satin-finished steel finish.
3. ACCESSORIES
The interiors are customizable with the exclusive accessories in Corian and Steel: pot holder, cutlery holder, spice jar, pasta holder. Everything is organized.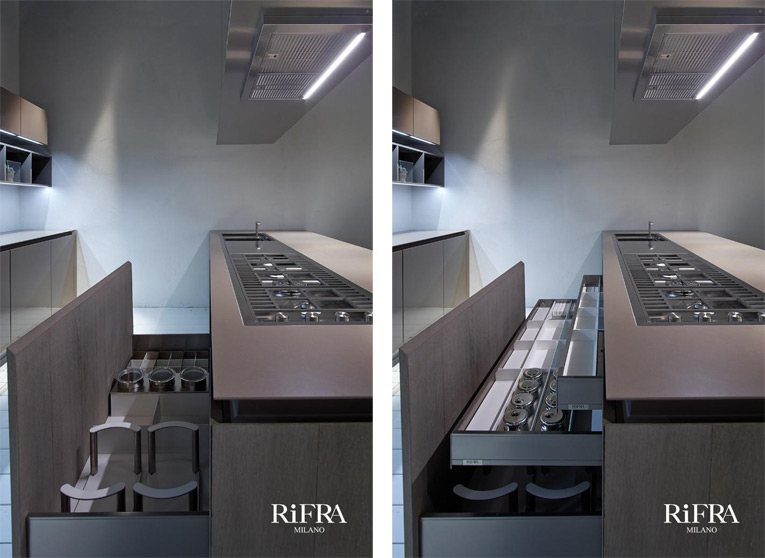 4. COLUMNS INTERIORS
The columns are available in different types;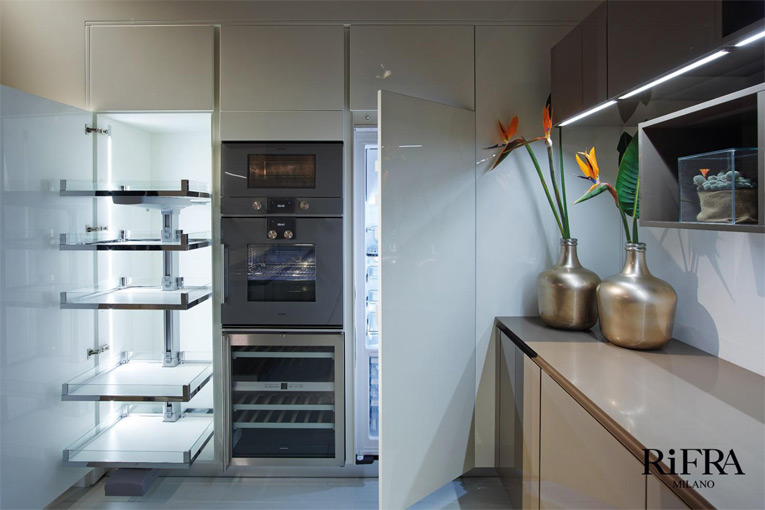 From the simplest shelves to the drawers, to the most innovative double containment mechanical solutions.
All kitchen columns can be equipped with LED lighting, with automatic on and off switching.
5. HANDMADE FINISH
Each single panel is handmade on all sides by our professional craftsmen, this process makes each piece different from the other, in a few words unique.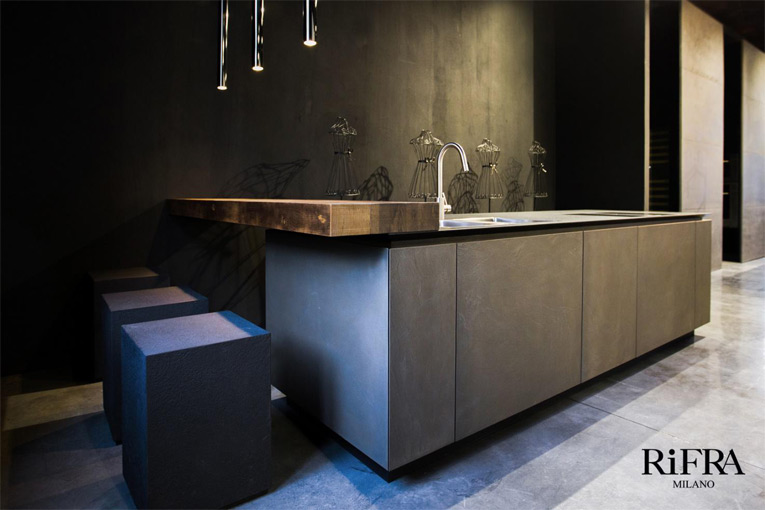 The finishes chosen for this kitchen are bronze metal for the doors and top support, granite for the worktop and wood for the snack table, which together release a particular luminosity.
Learn more about the RiFRA metal finish by following this link: https://blog.rifra.com/en/kitchens-and-baths-with-new-finishes-metals/
You can see everything in this summary video:
Laura Spinelli
PS: Sign up for our YouTube channel, http://www.youtube.com/rifra to stay always updated.