We are in Milan, in a historical building, distinguished by elegant architecture and timeless beauty that represents the heritage of the Milanese capital.
The design apartment has just been renovated with RiFRA kitchen and bathroom.
Let's see them in detail:
THE KITCHEN
The kitchen is double walled with bases and columns from the LINE collection, the chosen finish recalls the shade of grey, the predominant colour throughout the apartment.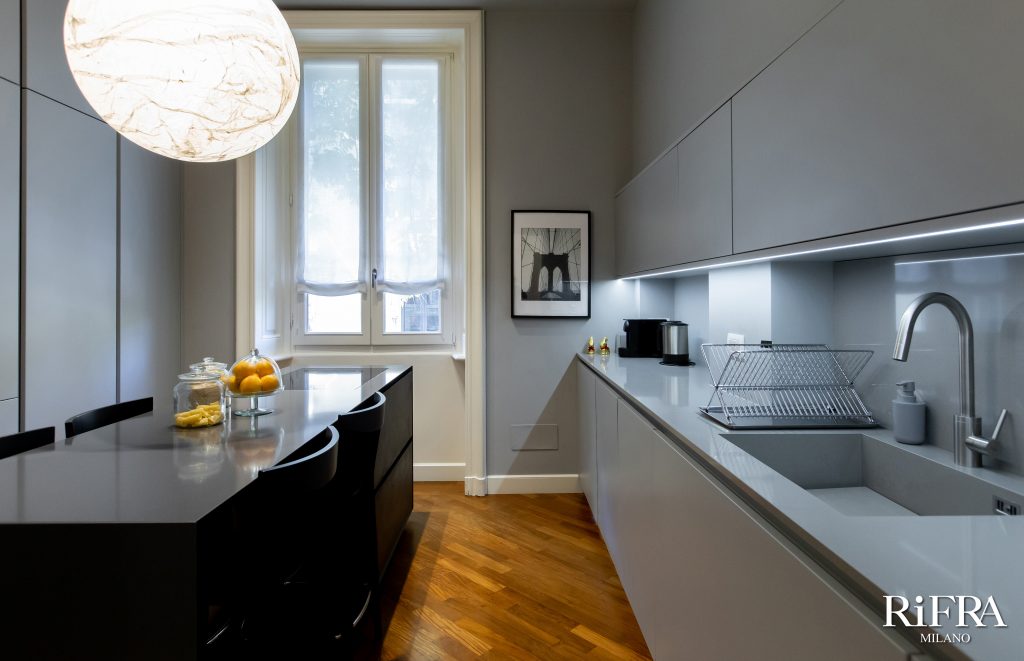 The central island is instead of the ONE collection, in the black hand spatulate cement finish, a chromatic contrast wanted to bring out the charm of the centre of the room monoblock;
the island is used partly for the consumption of meals and partly for preparation and containment.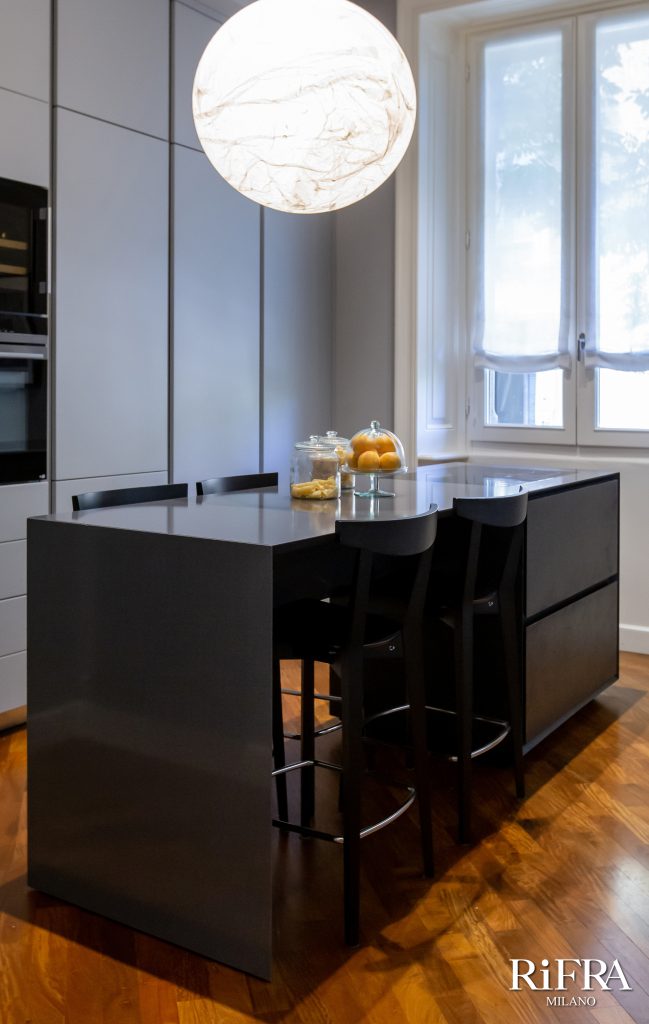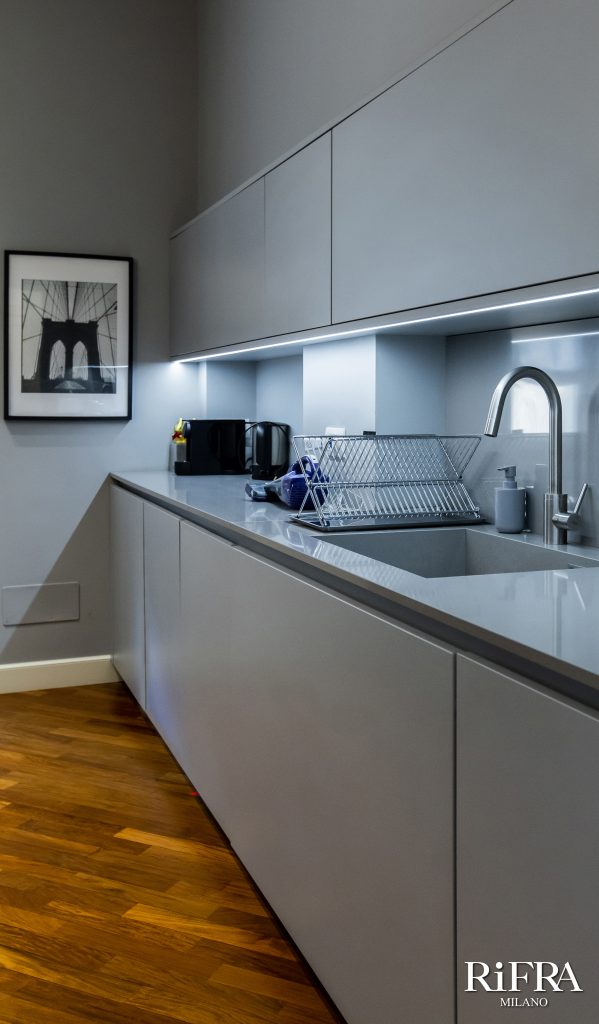 THE MASTER BATHROOM
The design of the ONE collection has also been taken up in the bathroom, to obtain a design continuity of the two environments Kitchen and Bathroom.
The master bathroom is from the KONE collection, in black spatulate cement finish.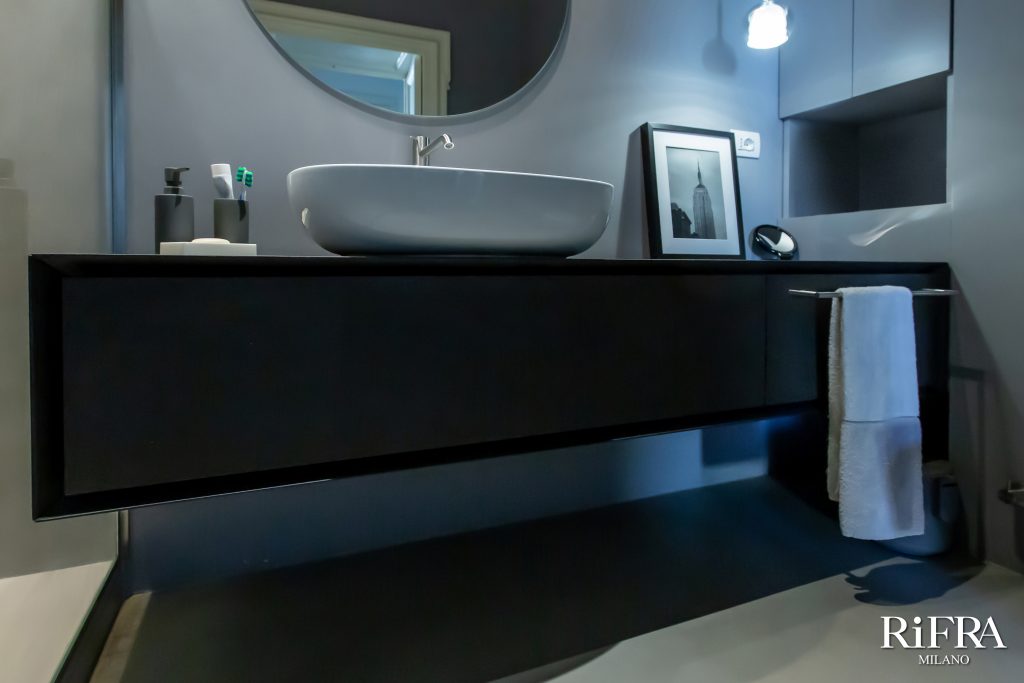 Our clients said about us:
"We got to know RiFRA through our architect, who followed, in collaboration with RiFRA, the renovation of the entire apartment.
the apartment is located in a period building and therefore had many period features also in the materials and furnishings, we changed the genre, creating a design apartment, modern and minimal, with shades of gray, and RiFRA has helped to make it just as we wanted it.
We chose the materials and designed the kitchen according to the new family needs and the RiFRA kitchen allowed us to live it fully, much more than before.
everything proved to be functional in the kitchen, from the finishes to the arrangement of each individual element".
We thank our clients and Architect Claudia Ponti for their trust in RiFRA.

To contact the Architect: https://claudiaponti.houzz.it/

Take inspiration for your next home from those who have already chosen and installed RiFRA kitchens and bathrooms, download the free ebook with our creations and discover why more and more people choose to furnish their homes with the style and prestige of RiFRA kitchens and bathrooms, true masterpieces of Italian design.
See you soon,
The RiFRA team