The RiFRA KUBE kitchen furnishes a prestigious design apartment in Milan.
The space is characterized by a very high ceiling and a typical contemporary architecture, with an important ceiling height and full height windows. The highest point of the kitchen reaches 4 meters and 36 centimeters.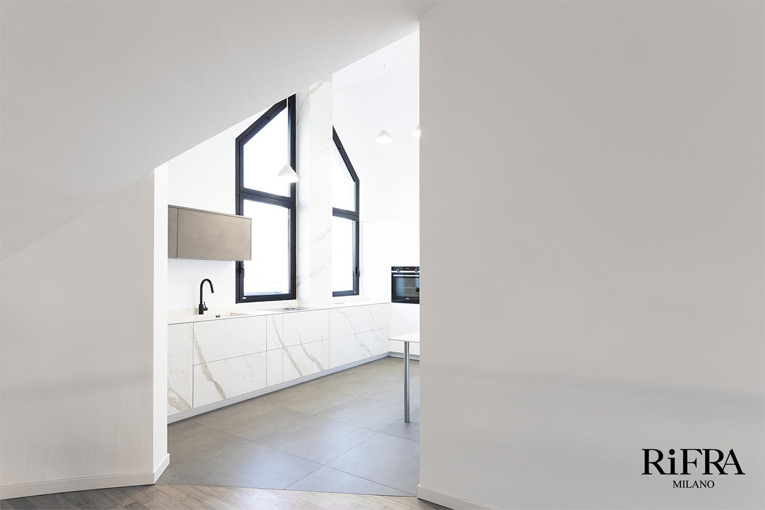 The finish of the KUBE Kitchen is in Ceramic Stone Calacatta with gold veining, and is developed as a C-shaped composition. The central and left side part is composed of bases, while on the right side, the kitchen closes with pantry columns lacquered in Pure White Glossy.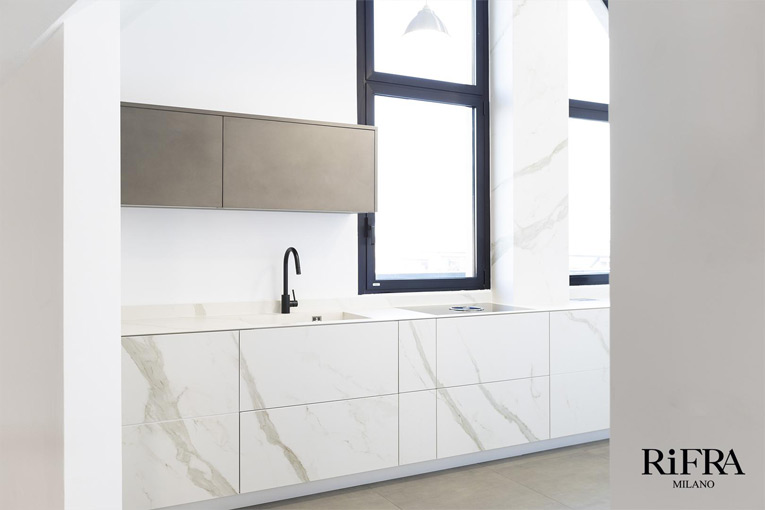 The details, such as the wall units and shelves are finished in clay.
The kitchen is completed by the boiserie also in Pure White Glossy Lacquer. In front of it, the pillar between the two windows is covered with Ceramic Stone Calacatta veined with gold, with the same finish as the kitchen doors.
The KUBE kitchen is at the top of RiFRA production. It has no grooves or external handles. The drawers are opened with a "push and open" amortized mechanism of the latest generation. This means that the drawer closure is softly accompanied.
The kitchen therefore looks like a Cube, with extremely pure shapes, without handles, and without grooves or profiles visible anywhere in the cabinet.
The worktop has no visible thicknesses and fits perfectly with the doors, thanks to the precision of the internal workings.
Regarding the internal parts: the rails, the structures and all the interiors are standard matt lacquered, or as an option in wood finish, which helps to give class and elegance to the kitchen.
The design of the kitchen was carried out by the designers of the RiFRA Store Milano, in collaboration with the client's architect.
For your personalized RiFRA kitchen project, please contact the RiFRA Store Milano, taking an appointment.
The first appointment, without obligation, takes place in about two hours, necessary to understand your needs and to show you our collections.
You can book your appointment online at http://milano.rifra.com, or call +39 02.36576650.
RiFRA
Kitchens and Baths direct from Milano