RiFRA Milano is a brand that for 45 years, in the furniture world, is synonymous of elegance, style and constant innovation.
In the last years we have placed our focus on the design, production and sale of kitchen and bathroom furniture of high range. Research, innovation, the study of new products, attention to the market and its players, the Italian taste in the choice of finishes, the coherence and elegance of the compositions, are a constant and basic feature that the market has always recognized to us. 
To provide you innovative material finishes for your projects, we present you the new proposals that you can find both in the kitchens here reported, as in the bathroom furniture collections.
CONCRETE
Already known in Roman times, the cement is a product of nature, which derives from stone. The production of cement starts from natural raw materials such as limestone and clay with the addition of sand; These materials mixed with the water solidify and harden by acting as a binder.
The result is a sound product, pure and natural, pleasant to the touch. The concrete finishing is characterized by a high mechanical resistance, to abrasion and to penetration of liquids thanks to the final treatment with nanotechnology that makes it water repellent.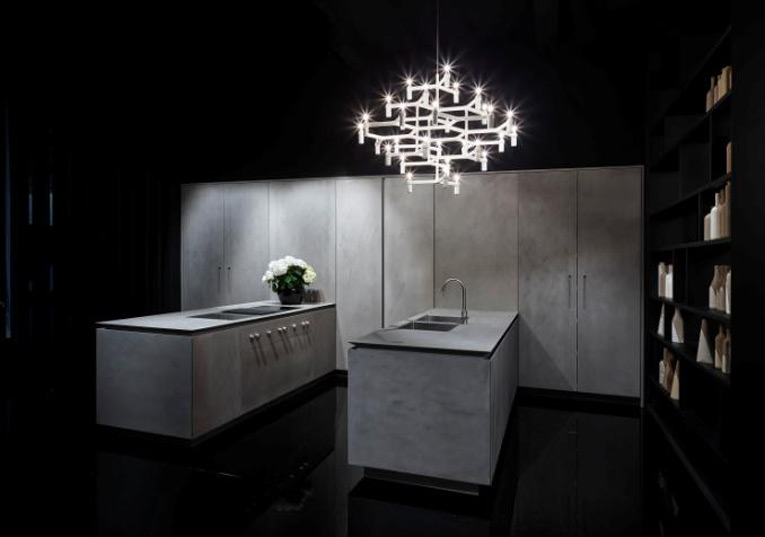 As you can see in the pictures of the kitchen FLY, you can use the cement in gray colors, even in the top, thanks to the exclusive SYNTRA technology, that protects the material finishing also from the heat, as well as water.
LAVA STONE
Continuing the exercise that led us to rediscover the natural materials, and to be real precursors with the launch of the concrete coating spatula, we come to the use of the lava stone, presented for the first time in the last edition of the Batibouw fair in Brussels.
The Lava Stone is a material with unique features, of volcanic origin, is durable and resistant to temperature changes.
The final result is given by a succession of craftsmanship which also recreate the porosity and the presence of craters which are typical of the lava when it has cooled once in contact with air.
ANCIENT OAK BRASS EDGED
The oak wood, with antique finish, and bordered on the sides of the doors with a brass blade, laser worked, contrasts with the contemporary lines of the ONE kitchen, characterized by its cuts to 45° and its only 6 cm high plinth, also worked to 45°.
CORIAN
The most innovative material of the last years, the best known and the most widely used thanks to its  indisputable advantages. A composite of natural minerals and synthetic resins that makes the material malleable , easy to work and restorable.
Overcoming the limits given by the specific weight of the material we propose Corian also as a finishing element of the vertical parts of the kitchens, giving continuity of material in the composition, formal cleaning and a distinctive aesthetic.
If you want to receive our catalogue with our news about Rifra's kitchens, click the link below: http://www.rifra.com/en/catalogo.aspx