How does RiFRA distribute their products? How does a kitchen or bathroom go from production to a warehouse and end up in your home? There are a few ways a person can go to buy a RiFRA kitchen or bath, and today we are going to explore all the options!
Independent Retailer
The first distribution channel is the most classic, and it's of course, retail. It's where a customer goes to a sales point, a place where there are products on show, whether that would be furniture stores or interior design boutiques, to look for a product they love. RiFRA has selected independent retailers around the globe where the goal is to show available kitchen and bathroom products that reflect the extensive range RiFRA has, but above all to give customers access to true experts on the RiFRA brand. These independent retailers are trained by RiFRA, have seen how products are manufactured at the factory, they've studied the catalogs and the price lists and by having the products physically in their stores, they can support final customers in making the right decision for them.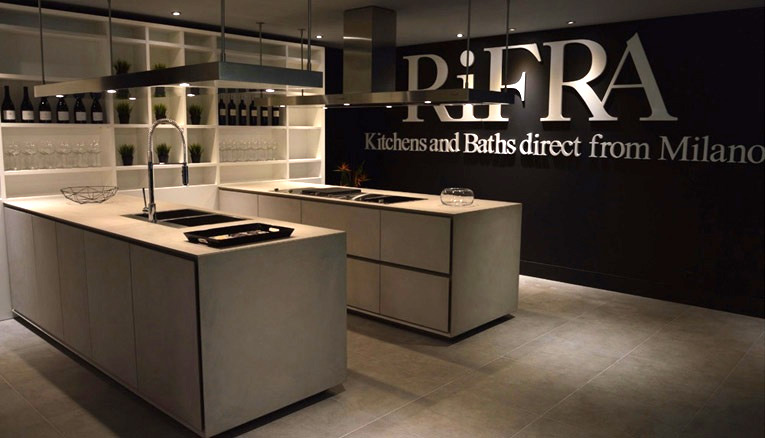 RiFRA Official Dealer "Valente Design" in Cogolin, France.
RiFRA Store
Another option to buy RiFRA product is to make your way to a RiFRA Store, a single-brand store where the full potential of the brand is expressed. The RiFRA stores are born with the goal to share the design culture and Milan's distinct style with the world. The Milan showroom started as a concept, that is now up and running in Milan, where there are two kitchens and two bathrooms on display. http://milano.rifra.com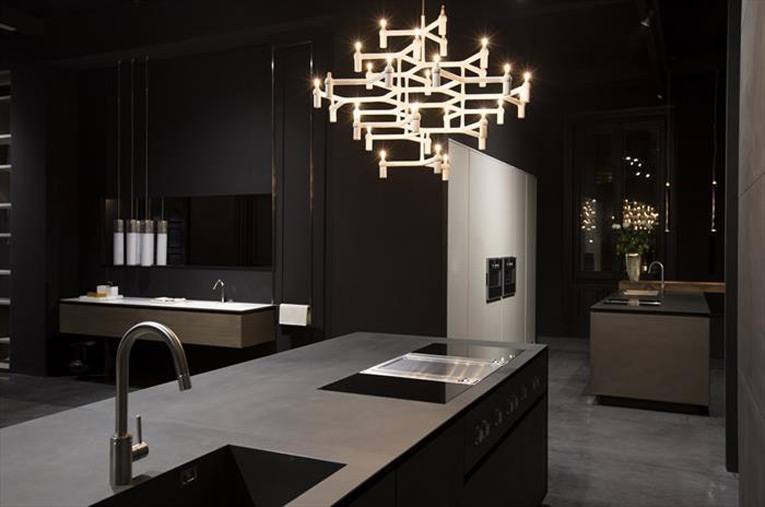 RiFRA Store Milano, Italy.
This concept has been exported to a few important points across the globe:
Modena: the largest of the showrooms by far, here you'll find an 800m2 space with eight kitchens and fifteen bathrooms. This space is designed to give customers, architects, designer and our dealers a place to see the whole range of products. http://modena.rifra.com
Paris: in the City of Light you'll find our showroom with one kitchen and one bathroom http://paris.rifra.com
New York: Opening soon!
Bruxelles: Opening soon!
Moscow: Opening soon!
RiFRA on line
What if you, the final customer, the designer or the architect, don't have an authorized dealer, or a RiFRA store near you? The third option is the online design platform that is available for the kitchen. We can positively say, that today, in 2018, if anyone is looking for information on the Internet (in particular on search engines and social networks) it may seem obvious to find options. However, in our sector, it's not that obvious: there's in fact a sort of barrier of fear or inexperience, ignorance perhaps in handling this new medium for the professionals in our sector.
But How? How can RiFRA guarantee the client the same experience that he or she has in one of the Stores or with a dealer, online? How can a connection with the emotions that go into choosing a kitchen or bath be made? How can a high-end kitchen or bathroom design be proposed through the Internet? These are questions that RiFRA has been asking for the past two years, consulting experts and leaders in the industry who basically brought forth two options:
1. Build an online design software.
This is something that can be found already out there in the market with large distribution companies, but something that was quickly put to rest because the RiFRA cliest has places to be, families to raise and careers to sustain and has an income that is able to afford a custom design consult. These customers are not going to take out the measuring tape and start looking for the electric and gas outlets. These are not only technical things that are not easy to understand, but if taken wrong can create a catastrophic event where a kitchen or bathroom is designed, produced and installed only to realize it doesn't fit. RiFRA could never allow that to happen!
2. Outlet.
The second option was to make standard kitchens and bathrooms, already produced or designed, with a set price, discounted and then sold online. Though this might seem like the most straightforward option, it's definitely not in line with the RiFRA brand and the clients' expectations. The world "outlet" and the word "RiFRA" just cannot be put in the same sentence.
The Solution.


So, what ended up occurring was the creation of a process that allows an online design. And how does it work? Basically the RiFRA experience is given to you in a box that is sent to your home where you can see, touch, feel and smell the materials that you have chosen, along with your own exclusive RiFRA designer. The kitchen and bathroom design will be created using the blueprints of your home and keeping in mind your exact specifications. It is an online design, not self-made, not an outlet piece, but a customized design created by a designer with you in mind.
Take a look to the "Project On-Line":
https://www.rifra.com/en/shop-progetto.aspx
No matter in which way you come in contact with RIFRA, the ultimate goal is for you to have the best experience possible and come out with a product that you are proud of having, that you love and that you will own for years to come.
Don't hesitate in getting in touch with us if you have any questions about any of these three ways to purchase and don't forget to visit https://www.rifra.com/en/index.aspx for ideas, inspiration and more information.