We are at the gates of Monza Park, the largest fenced-in park in Europe, where Fabrizio, a young client of ours, chose RiFRA and the LINE kitchen collection, with its clean, timeless lines, to furnish his new apartment.
His goal was "to create an open space with the living room, and I wanted the kitchen as a 'calling card' because the project also includes a continuation with the living area and the TV wall."
This kitchen project is developed with a portion of wall-mounted columns, which house the appliances and pantries, while the cooktop and sink are on the island.
The island is then developed on the wall adjoining the living area to accommodate the TV.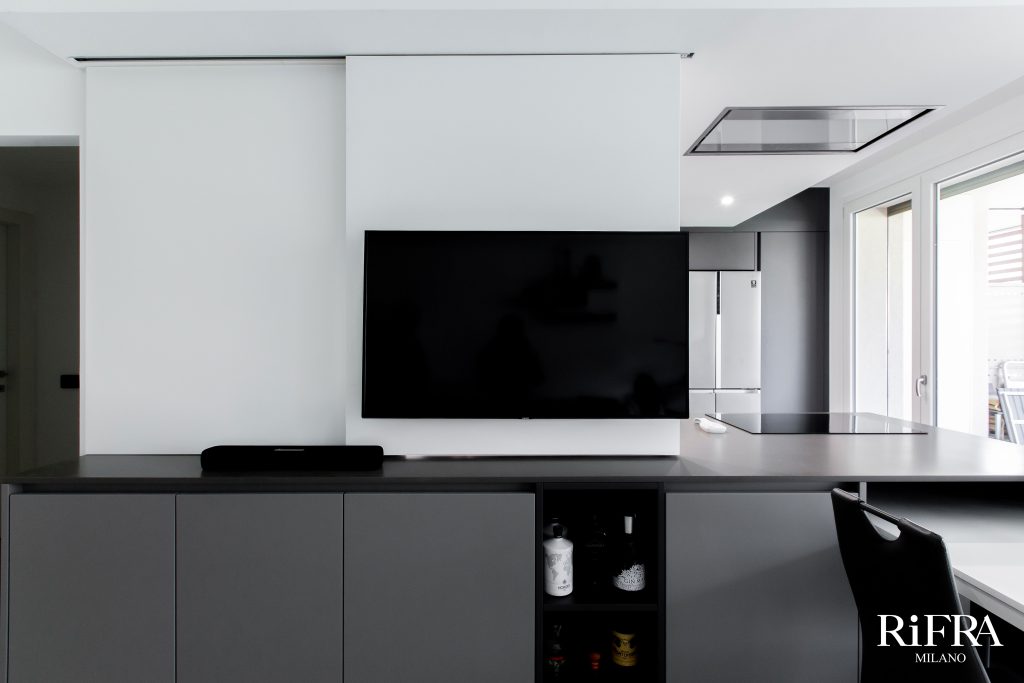 Also integrated into the island is a low table ideal for eating breakfast and lunch.
The kitchen finishes are represented by the opaque lead lacquered cabinets and the quartz top.
We thank Fabrizio for his choice of RiFRA;
The design, production, and installation of the kitchen are the three key steps to the success of the overall project.
RiFRA is the only high-end company that designs, manufactures and installs its kitchens without intermediaries.
If you are in the process of remodeling or choosing a new kitchen, talk to one of our designers, for a free initial consultation that results in a 3D design and a quote, with no obligation on your part.
See you soon,
the RiFRA team