I wish to point out the production of 4 new product videos, focused on the new collections and finishes.
The first two are related to:
Kitchen ONE and Bath K.ONE.
Characterized by their 45° cuts on the doors and on the top, these collections are the "high end" of RiFRA production.
Especially the kitchen ONE collection 2016 is presented with an ancient oak finish with brass edge, top in Dekton and appliances columns, hidden by MDF wings covered with Lava Stone:
Click on the link or on the picture:
The bathroom vanity of K.ONE collection is instead completely covered in Lava Stone; the atmosphere is completed by the top with integrated sink in Corian, the LED mirror cabinets, accessories in Corian and steel, (with the same design and materials of kitchen accessories), steel taps and pendant lamps in steel rose gold finish.
The Round bathtub and shower tray in Corian complete the RiFRA bathroom environment.
Click on the link or on the photo:
Kitchen FLY
The finish "cement" is presented on the collection FLY, characterized by 45° doors cut and 30° top cut.
In addition, thanks to the exclusive preservation technology SYNTRA, it is possible to use the light grey and Ardesia grey cement finish on the worktop as well.
The design of the FLY composition is the RiFRA typical double island design.
Click on the link or on the photo:
Kitchen LINE
In this short movie you can see the "folding door" opening mechanism in action, which allows a total closure of the operational parts of the kitchen itself; in this case the kitchen is covered in Corian, with the top in solid steel.
The composition is completed by Corian backlit LED shelves, whose light reflects on the steel back panel.
Click on the link or photo: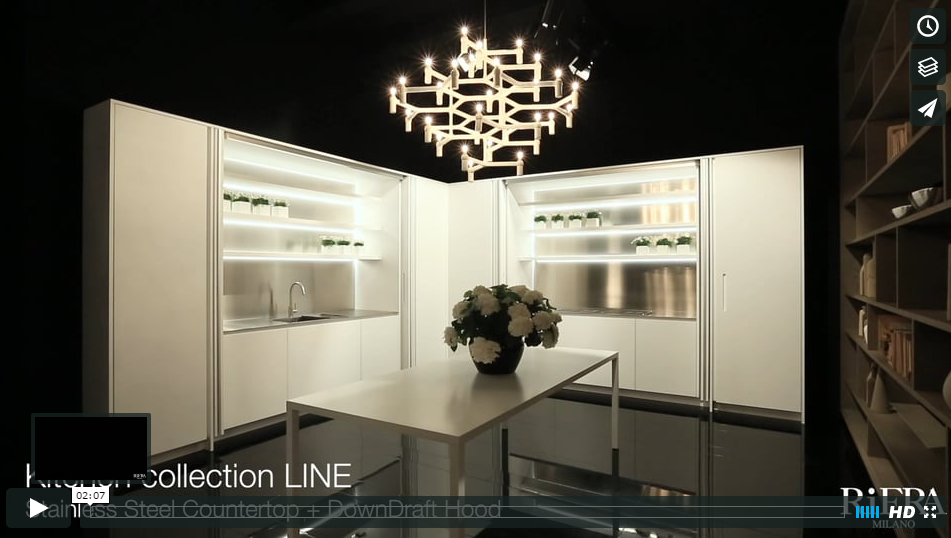 If you found these videos useful, please remember that you can use them for free in your presentations.
See you soon,
Matteo
PS: don't forget to visit our completely renewed website: http://www.rifra.com/en/index.aspx;
From our portal you can get access to many free resources, specifically conceived for designers and architects.