Welcoming, comfortable and charming, the open kitchen is a very trendy trend in modern homes.
The interest found in food preparation and new trends have made it a highly sought-after solution to live and exhibit.
Therefore the consequent need to create a union both physical and linguistic with the living area, giving rise to moments of strong sharing and sociality.
The first thing to do is undoubtedly to organize and furnish this type of environment, so that each area can maintain its function, but at the same time can be integrated with the others.
For both small and large places are available different and interesting solutions.
Read the article dedicated to the open space kitchen: https://blog.rifra.com/en/open-space-kitchen-pros-and-cons/
In addition to the configuration, the choice of materials also represents an important element of hinge with the living environment.
A kitchen where the clean and refined lines are combined with striking materials is perfect to make your open space unique and character.
The island kitchen creates a suggestive atmosphere whose strong point is the mono-materialism and the minimal style.
It is a solution that is increasingly appreciated and used, because it synthesizes the new way of living in a contemporary home, based on the sharing of spaces and hospitality.
For example, in this refined ONE kitchen, RiFRA proposes the island in a black concrete finish that represents a perfect line of demarcation between the kitchen and the dining area, without creating a clear separation.
Surely the choice of natural materials such as cement, metal and stone, is able to give character to your environment.
Let's see together a selection of materials proposed by RiFRA:
1. CEMENT
When talking about cement, we are talking about a product of nature that originates from stone and fire. It is a union of three natural materials, limestone sand and clay, that, when combined with water and other natural-borne materials, reaches a semi-solid state that allows it to be spread by hand on the piece of furniture in question, making each piece unique.
2. METAL
RiFRA reinvents the way a material that is practically everywhere -and has allowed humankind to literally evolve- is used in everyday life. This finish is created from a base of metal powder mixed with synthetic aggregates creating a semi-solid, which, again, permits the coating of the furniture to be done by hand.
To learn more about RiFRA's natural finishes, click here: https://blog.rifra.com/en/metals-and-cement-on-point-trends-for-kitchens-in-2017/
RiFRA presents the FLY model island in metal finish, combined with an antique wooden snack, whose materiality spreads warmth to your environment.
3. STONE / CERAMIC STONE
RiFRA proposes the new KUBE model covered in Ceramic Stone Calacatta Oro. Stone shows its ability to deal with any material, even making itself light and giving personality to the whole environment.
RiFRA has chosen five finishes, five natural marbles and their variations in slabs of extremely thin ceramic that allows to achieve large measurements in length and width. The five natural marbles you'll be able to find are: gold calacatta, noir desir, grey savoy, diamond cream and statue white.
In the case of a linear open kitchen, on the other hand, the space available can be used to integrate all the modern withdraw able and swivel mechanisms that make it possible to offer truly excellent storage capacity and comfort conditions.

Kitchen model LINE
The dialogue between the kitchen and the living room takes place thanks to the use of open solutions, bases, shelves that create continuity with the furniture of the living area and allow you to display books, objects and decorative elements that make the atmosphere representative of your style.

Kitchen model LINE
Laura Spinelli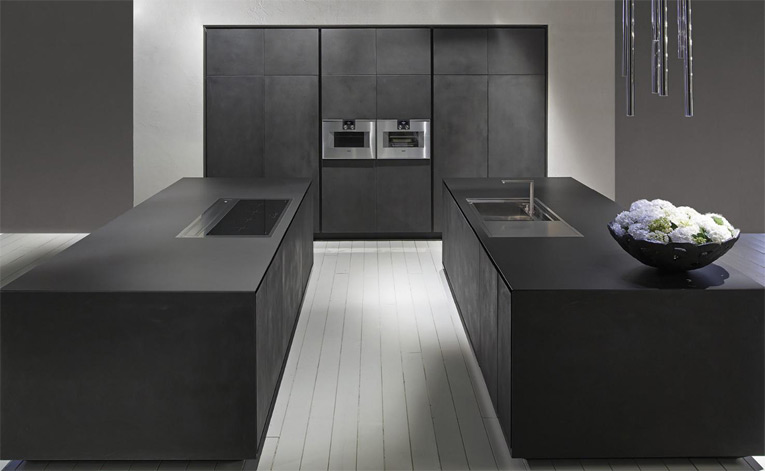 Would you like to create your own RiFRA kitchen but don't have a shop nearby? Online design is the perfect solution for you. Visit the dedicated link: https://www.rifra.com/en/shop-progetto.aspx