The RiFRA LINE kitchen furnishes a prestigious design apartment in Milan.
The customer has revealed us how the base of the choice of every single detail and furniture of the house, there has been a constant attention to quality and especially to materials.
The elegant structure and the original details of the house, typical of the noble Milanese buildings of 1800, have been fully respected, indeed enhanced by the touch of modernity and freshness given by the choice of soft colours and fine fabrics.
And it was precisely during the search for the perfect material for the kitchen that the customer got to know RiFRA, attracted by the material effect of the cement finish, a finish then chosen for the kitchen island.
As we can see from the photos, taken by our media company, the kitchen chosen is the LINE model, distinguished by its unique clean and timeless design.
The two walls, equipped and intended for storage, furnished with columns, bases and wall units, pure matt white lacquered, frame enhancing the central island covered in black spatulate cement.
The top in absolute black Granite, a finish chosen by the customer, for its effect to the touch and for its brightness, dialogues perfectly with the materiality of the cement finish and gives a pleasant contrast effect on the bases next to it.
The play of colours between black and white can also be seen inside the columns, chosen by the customer and offered as standard by RiFRA, in black.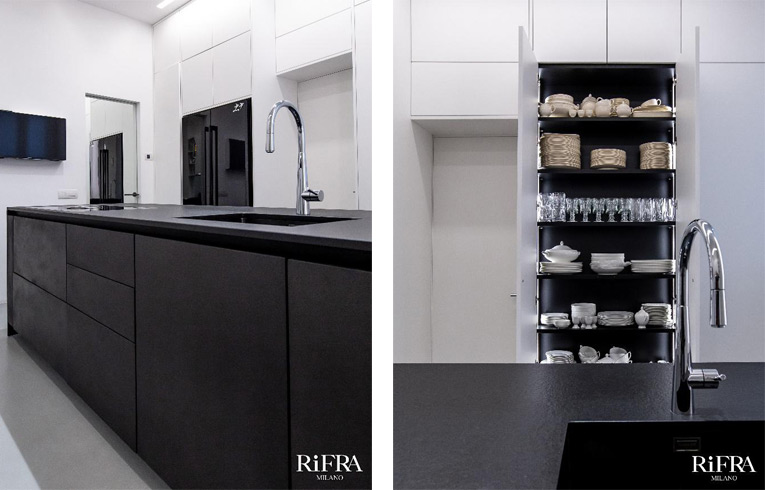 Here are some steps of the interview with our client:
"I wanted a functional, high-performance kitchen with clean lines that made me want to cook, and RiFRA satisfied all my needs."
"This kitchen was a winning choice! And it has become the meeting point of the house for the family."
"The island has changed our family habits for the better, making them more convivial; allowing us more autonomy, it has modernized our way of living the kitchen, less formality and more dynamism."
"more than positive experience. From the visit of the showroom to the design, I realized exactly what I wanted"
"the designer RiFRA, has been able to listen to me with patience, as a saleswoman but also by entering and participating in the realization of my desires."
We thank customers for their availability.
it's been a pleasure for us to work and collaborate on the success of their project.
To request a first consultation for your project, complete the form with the request for information: https://www.rifra.com/en/contatti.aspx
RiFRA
Kitchens and Bath direct from Milano
https://www.rifra.com/