On the Tibidabo hill, overlooking the Catalan city, the ONE kitchen by RiFRA contributes to the creation of a contemporary project, creating an extremely elegant and refined atmosphere.
The ONE kitchen by RiFRA has been created with a monolithic island in the middle of the room, between two walls formed by columns and bases, all equipped with appliances that enhance the unique design of the collection.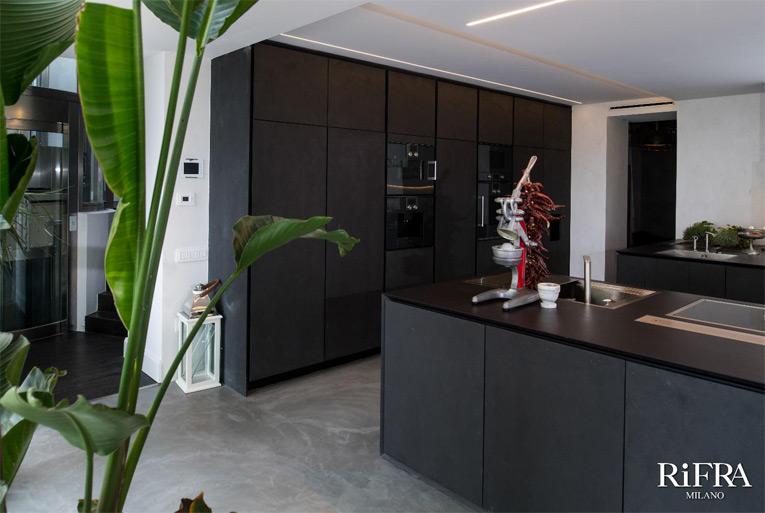 The black hand-applied concrete finish is enhanced by the play of natural light that reflects embellishing every single detail.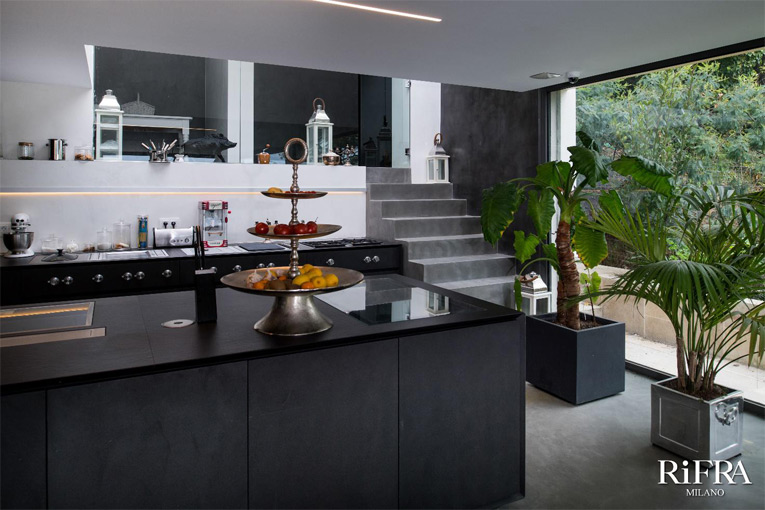 Monica Fiumanò Reynaud, the Interior Designer who followed the project, gave an interview to RiFRA TV, following the main steps:
"In Spain I had a project for a villa on the Tibidabo hill, a villa of 1000sqm, the most satisfactory project thanks to the collaboration with RiFRA.
The knowledge of RiFRA was quite classic, at the Salone del Mobile in Milan, at a certain point I had the lightning strike for the kitchen on display, it was the ONE model, in the concrete finish, with anthracite reflections; in short, I found it perfect for the space I had available in this Villa.
It is a Villa that dominates all of Barcelona.
The kitchen was so beautiful that it was not necessary to add any kind of lighting that would go down, just a few simple traces of LED light were enough, to leave the protagonism to the kitchen that is truly spectacular.
I can only say that it was a positive experience in all respects because the project was followed in a reassuring way, the slightest problem, the slightest doubt, there was someone who answered the phone, there was an effective enforcement procedure.
It is a Villa that has prestigious clients, normally accustomed to having chefs, but some have deliberately given up having the privilege of cooking on the kitchen RiFRA with a view of Barcelona.
The first impression I had when I saw the kitchen at the stand was to touch it, it is the same gesture that everyone who comes into this kitchen when they come to see the house."
You can see the interview on our YouTube channel:
To request a first consultation for your project, please fill in the form with the request for information: https://www.rifra.com/en/contatti.aspx
RiFRA
Kitchens and Bath direct from Milano
www.rifra.com