KITCHENS AND BATHS THE BIRTH OF A NEW CATEGORY
It has just ended the 'Salone del Mobile' of Milano, in its biennal edition 'Kitchens and baths'.
We have presented (after the ISH 2015 and Batibouw 2016) our new brand "RiFRA Milano", that will accompany all the products of the company.
Outside the stand, the people were welcomed by RiFRA, complete payoff "Kitchens and Baths direct from Milano", that indicates tha category and the high-range placement of the mark.
---
ONE KITCHEN AND K.ONE BATH
The ONE kitchen is characterized by a monolitic island, with a special finishing in antique oak and a gold brass edge.
The background of the kitchen, that hides the columns, are proposed in Lava Stone.
The K.ONE bath proposal, ensures the design continuity with the ONE kitchen thanks to:
The 45° degrees design of the sides and doors.
The Lava Stone, on the backstage of the ONE kitchen and like a finishing on the K.ONE bath.
The RiFRA bath, is completed by:
OVAL bathtub in Corian
WAVE taps in satin inox
Mirror container LED illuminated
Shower tray in Corian
Suspended Sanitari in matt ceramic
Accessories in satin inox and Corian
---
FLY KITCHEN
The FLY kitchen is characterized by:
The finishing in grey slate cement
The 45 degrees design on the doors
The 30 degrees design of the top
The grey matt lacquered interior complete the design with the satin inox guides, available like options on the FLY, LINE and ZERO kitchen, while the ONE kitchen has a standard guides.
---
LINE KITCHEN
The LINE proposal was marked by three elements:
The material: the doors, the sides, and the internal shelves in Corian.
The corian finishing has a thickness of 4 mm and it has been applied on the door with an alveolar wood structure, to ensure over time the lightness and the working of the mechanisms.
Design: the use of the special mechanisms allows a total closing of the doors hiding the working zone.
When the doors are open, thanks to the bellows system, the kitchen covers itself with a valuable stage effect.
The inox top with a thickness of 4 mm and the backstage also in inox complete the design.
The shelves are fixed on the sides in such a way that LED lights have a magnificent scenographic effect.
---
At the end of the Salone del Mobile, we recorded a short video about our six working days, with a special thanks to the thousands of people who visited our stand and to the RiFRA team, who has made this possible.
Click here to watch the interview.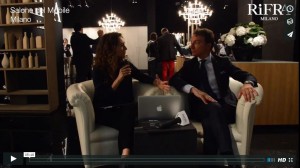 To download all the photos of RiFRA stand, visit the web:
http://salonedelmobile2016.rifra.com
If you visited the stand or want leave a comment, write it below if you read from the blog, or replay to this email if you read from the newsletter.
Matteo
Ps: don't forget to visit Rifra website, completely restyled:
http://www.rifra.com