The special finishings stands out the materiality of the piece of furniture, giving a look of complete sophistication.
Even more if it comes to metals.
The metal finishings for example represent one of the most valuable solutions in the field of products for the interiors because they offers a clean design and extensive guarantees in terms of duration.
Besides the metal is a detail that makes it valuable furniture and enriches the look of our home, attracting the attention in the most important points of the room and recreating both style, retrò and contemporary, that depends on design that welcomes him home.
K.FLY in iron finishing / iron1
In the last few years the technological progress in the field of materials for the interior design has made giant strides in particular with regard to the quality of the metal coatings.
These find application in particular in the production of elements for the decoration, sector in which the quality of the design is now an absolute requirement, of which many customers take into account not only when it comes to furnish an office or a place open to the public but also in the case of housing.
Talking about interior design it is more of a trend that has its roots in the use of the iron on the part of the great masters architects.
In 2017 there are many studies that continue to reinterpret the furnishings of 900 transforming them into true works of contemporary art.
Also, the combination between light and metal represents an irresistible charm for the light designers, creating a warm light but at the same time, reflective and zen that improves the richness of the surface.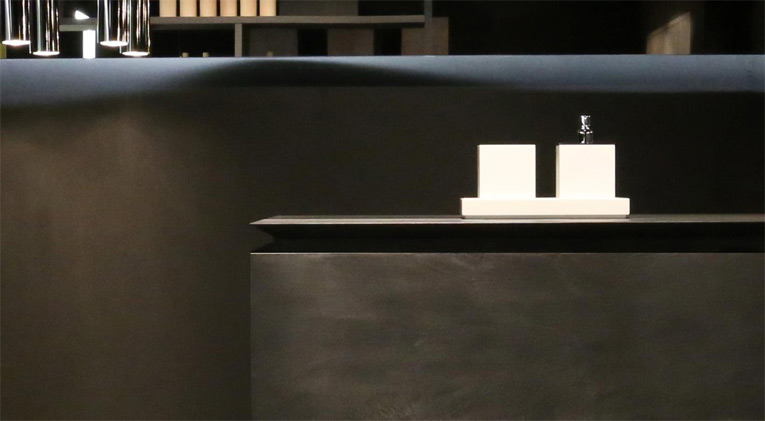 K.FLY in iron finishing
Iron, brass, copper, bronze, spatulated, worked or left raw show themselves in their full materiality and the raw material back protagonist.
The presence of the metal in the interior design marks a great return and the current trend brings to light its aesthetic characteristics in a wide range of colors.
We propose two kind of finishings:
FINISHING IN METAL
FINISHING IN METAL CRACKLE
FINISHING IN METAL
Technically the smooth finish in metal is obtained from a liquid metal mixed with synthetic aggregates that make the compound semi-solid.

K.ONE in copper finishing
In this way we can spatulate it manually on our products and obtain a lasting and valuable result.
This process allows you to cover any object without special constraints, giving us the possibility to use the characteristics of the metals also in bathroom furniture coverings.
A trend in which the craft has his rematch!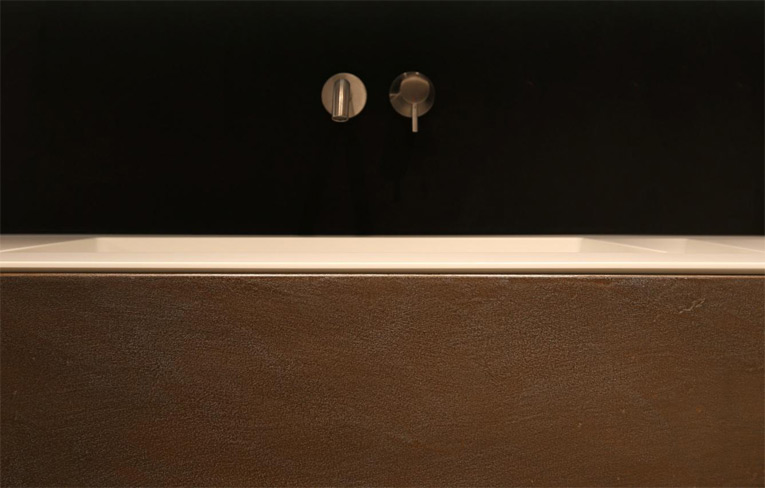 K.KUBE in bronze finishing
FINISHING IN CRACKLE METAL
The Crakle finishing replicates the cracks on the same material.
This peculiarity is effected by chemical reaction therefore dimensions and depth of the cracks cannot be controlled, sign of uniqueness.
As Illustrated below both the metal finishes smooth and crackle are available in the variants: Iron1, Iron 2, copper, bronze and brass.
Laura Murru
P.S Subscribe to our You Tube channel youtube.com/rifra