We know that behind every project, behind every house, there is a story unlike any other, and above all, we know that not all homes are the same.
At Rifra we produce about 4.000 different solutions a year, between bathroom  and kitchen furnishings.
Each single piece of furniture is designed in a different way and it is very difficult that during a working month, a product identical to another ever leave the production line.
This is because we already offer several bathroom and kitchen collections in series, which complement each other but are customizable in different sizes and finishes.
In addition, we offer you the possibility of the "true tailor-made".
Of course other companies offer "tailor-made" solutions, but in reality all they do is modify width and base and relative doors at an additional cost. (Do not even take into consideration those who do not offer this service).
As a "true tailor-made" solution, we intend to offer, in cases where a project is highly complex, a design service carried out step by step, with you or with the designers you assigned your restructuring to, that will lead to a fully tailor-made project which will satisfy in full all your needs.
Please take for example the bathroom and kitchen decor of this prestigious villa in Florida.
The developer and his team of architects and interior designers, have designed, with our technical support, a kitchen which was very challenging in terms of design and production.
In short, the client, and his designers desired:
1. an operational wall to serve a bar.
2. a cubical island with sinks operating on two sides, which through sliding doors enables access to a second working kitchen and a pantry accessible through a sliding door from the second working kitchen.
On the exterior of the cube, lined by Rifra panels, the client wished to have wall and base units which could be equipped with professional appliances.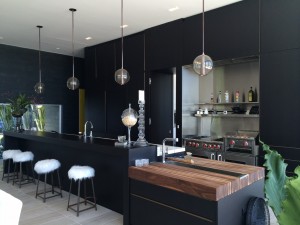 3. in front of the cube, an island with storage capacity and designed for food preparation was expected.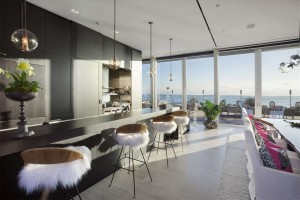 The kitchen, along with two others installed in the villa and many Rifra bathrooms, has just been installed, and immense was the satisfaction when the project was completed by staff trusted by the client, without a single problem or imperfection.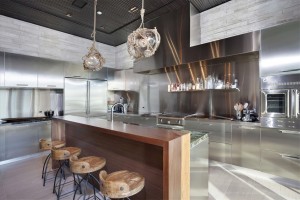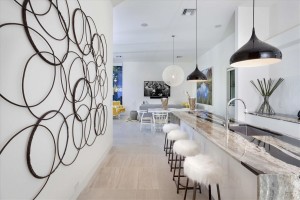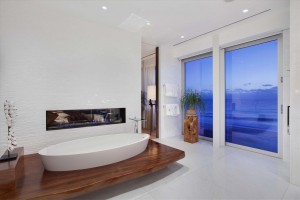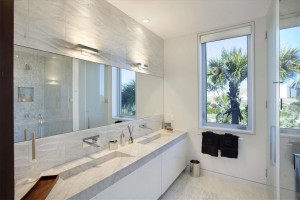 ---
Read the clients testimony:
"Matteo, my house in Florida is coming to the end of the building process and finally becoming a home. Many of the pieces I touch each day are designed and created by your company, Rifra.  I cannot tell you how much I enjoy the look and feel of the pieces.  The main kitchen makes quite a statement but my private food prep area is my pride & joy.  I LOVE the look, feel and utility.
The master bath room & tub are simply gorgeous and all of the panels that surround it, make it complete.  The outdoor kitchen gets used weekly and may be the hit of the house, as far as the kids are concerned.
With as many kitchens/breakfast bars & bathrooms that are on the property, all supplied by your company, I know I made the right choice to have all done by you.  Again, thank you and all of your staff who worked so diligently to make this happen.  I promise to send pictures as soon as available."
Katherine McConvey,
CEO of KMM corporation, and Rifra customer. 
---
This because we at RIFRA, unlike other non specialized companies, which limit themselves to the packaging of the bases, assemble all the kitchens and the  bathroom furniture compositions of the monobloc collections in-house before sending them to our clients.
Each kitchen therefore follows the following procedure: production, painting and assembly of the bases of the wall cabinets and columns, in-house setup of the kitchen, verification of measurements indicated in the project, dismantling of the kitchen, packaging of bases, wall cabinets and columns.
This procedure naturally limits by a great deal the possibility to incur in error during the installation carried out in the clients home.
To be updated on the world of design, stay in touch and join our community of over 6.000 members. Please fill out the form to subscribe to our mailing list.
P.S. To those who register from our blog, we will send our new kitchen catalog.
Keep in touch!