Your dream project for your home undoubtedly stems from a passion for beauty and valuable objects that have been handed down over time; as we have seen in this (tailor-made) article, it is sometimes necessary to resort to the "tailor-made".
But there are differences that allow the whole project to be harmonious and consistent with the taste and style of the homeowner.
Customization is the key to success.
Questa convinzione nasce dalla nostra esperienza di anni nella produzione di bagni e cucine destinati ad una clientela esigente e di alto livello.
This belief stems from our years of experience in the manufacturing of kitchens and bathrooms designed to satisfy a demanding and high-end clientele.
Today you may take advantage of this experience and have your project reach a level of customization never seen before:
We are the only manufacturer of bathrooms and kitchens that offers almost infinite possibilities of customization, even for the interiors of furniture, thanks to the fact that as pure manufacturers, we check the entire production chain internally, including the painting and polishing of furniture.
Both in the bathroom as in the kitchen you may choose:
– interiors lacquered in the same color as your furniture: with up to 50 standard colors to choose from.
Reserved for the bathroom are:
– soft microfiber interiors: a touch of luxury and exclusivity that will give value to the entire project. They are available in two colors: black and taupe. The customization continues in the choice of equipping the interiors with dividers and lids, always in microfiber, to give privacy to the interiors of your furniture.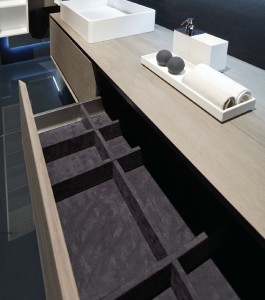 In this way you may store your precious valuables, jewelry and watches, with the certainty that they are in contact with soft material which will protect them.
For your kitchen, we have additionally studied interior fittings in stainless steel and Corian or wood and stainless steel, so that you may share the same overarching theme (design and high level of materials and finishes) with Rifra's bathroom accessories:
dividers, kitchen roll holders
dividers, spice racks, cutlery trays, knife racks,
dividers, plate racks, pasta jars
If you want to stay in touch with us and be updated on the world of design, fill out the form to the left and subscribe to our mailing list.
keep in touch!